---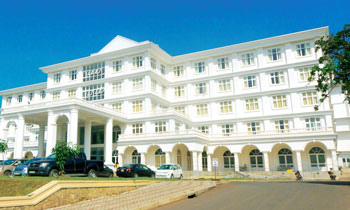 The Neville Fernando Teaching Hospital (NFTH) in Malabe took over by the government on July 17th started free healthcare delivery today under a new board of directors appointed by Health Minister Dr. Rajitha Senaratne.
A spokesperson of the NFTH said 100 outdoor patients met a doctor and received treatment in the first six hours from 6.00 a.m.
Minister Senaratne appointed a 14 member Board of Directors to the NFTH last week and the hospital now runs under this new management.
The Chairman of the Board of Directors of the hospital is Dr. U. A. Mendis, former Deputy Director General of Health services and the board of management will run the hospital until such time an Act on the line of Sri Jayawardanapura Hospital Act is enacted or end of two year interim period which ever comes first, Minister Senaratne said.
"Action has been taken to handover the above Hospital to my Ministry effective from yesterday (1) as per the Letter of Intent entered by the triparty concerned namely my Ministry, South Asian Institute of Technology and Medicine (SAITM) and Bank of Ceylon on July 17, 2017," Minister Senaratne added.. .
Provision is available under a Cabinet decision to maintain the Out Patients Department, Admission of Patients, Preliminary Health Care, Operation Theaters, Supply of logistics and Medicine, Intensive Care, Radiology, Laboratory, Specialist Services etc and also for the appointment of a Board of Management for administration and management after receiving the possession of the Hospital on August 01, 2017.
The government will release an additional allocation of Rs 200 million per month as estimated operational cost from the Treasury for the continuation of services of the Hospital from August 01, 2017 to December 31, 2017 and allocate an additional sum of Rs. 50 million per month for the Medical Supplies Division of the Health Ministry Nutrition and Indigenous Medicine in connection with supply of drugs and other logistics from August 01, 2017 to December 31, 2017. (Sandun A Jayasekera)
Video by Sanjeewa