---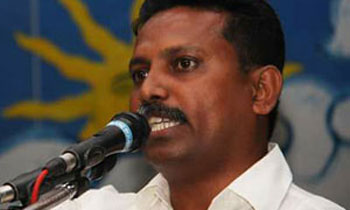 Former member of the National Freedom Front (NFF) and the Janatha Vimukthi Peramuna (JVP), Jayantha Wijesekara joined the Sri Lanka Freedom Party (SLFP) today.
The JVP MP for Trincomalee from 2004 till 2010, he joined the NFF in 2012.
He told a news briefing at the SLFP Headquarters in Colombo that he had decided to resign from the NFF following party secretary Priyanjan Vitharana's resignation.
"Mr. Vitharana did a lot for the party during the past eight months. I decided to quit the NFF following his resignation. I wish to invite progressive politicians from both the JVP and the NFF to join President Maithripala Sirisena," Mr. Wijesekera said.
Commenting on his decision to join the SLFP, he said it was made following the President's assurance to consult all parties before amending the Constitution and the assurance not to betray the country.
"Our priority should be the country. The President said he will not betray country. Therefore, I decided, as a patriot, to stand with him without conditions," he said. (Lahiru Pothmulla)
Video by Susantha