---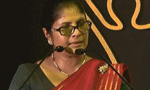 Women and Child Affairs Minister Chandrani Bandara said yesterday the National Child Protection Authority (NCPA) would take action against the joint opposition for using an 8-year-old child in its Pada Yathrawa based on a complaint received by the NCPA.
She said August 1, the NCPA received a complaint on its hotline No: 1929 while the Child Rights' Protection Foundation had also complained to the NCPA.
"The complaints are being investigated. It is cruel to use a child as a pawn for political matters. It is even worse if the child was subjected to mental and physical abuse," the minister said.
She said as minister of child affairs I would not hesitate to condemn this act of cruelty to a child.
"This proves that the JO is ready to even go to any length to grab power," she said.
The minister said those who embraced and hugged children failed to adopt laws to protect children and added that the government hoped to prepare a child protection policy. (Ajith Siriwardana)
Video by Indika Sri Aravinda