---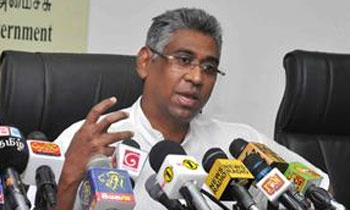 Local Government and Provincial Councils Minister Faizer Musthapha said the joint opposition and the JVP submit no-confidence motions against the previous government and the former subject minister and not against him.
He said the entire controversy surrounding the conduct of the local government polls and all this delay was caused by them.
The minister told Daily Mirror the two parties must first realize who was responsible for the delay and as to who attempted to use the delimitation process to their advantage by hoodwinking the political parties, the voters and the officials.
"The opposition has made me a scapegoat even after I had used my powers to expedite the delimitation process and fast track the conduct of local government polls. Party leaders, including the opposition and the JVP did not protest when I appointed the five-member all party official committee chaired by Asoka Peiris to rectify the shortcoming in the delimitation report released in August 2015. All political parties supported the LG amendments when I presented them in Parliament. Therefore, I don't understand why they want to submit a no-confidence motion against me after the Court of Appeal stayed the gazette notification on a petition filed by a few," the minister said. "The delimitation committee report was submitted on June 19, 2015. However, we received more than 1,000 complaints that the delimitation process was flawed. As a government member I appointed a committee to demarcate wards as permitted by law. An all-party conference was also held recently with the participation of the President and the Prime Minister with regard to this matter. The Law is such that the delimitation process is not completed until the appeals are concluded. Therefore, I believe that the Law and the prevailing exigencies demanded that the local government elections be postponed until the finalization of the delimitation process.
The minister highlighted the fact that the delay in conducting LG polls originated from the first delimitation report which was prepared under the previous government.
'It was a report made in an air-conditioned room on the instructions of the former minister Basil Rajapaksa. He wanted to use the delimitation report to keep all LG bodies under the SLFP. That is why all political parties including the UNP, JVP, TNA and all other minority parties vehemently opposed it. I like to ask the JVP and the JO where they were when the Rajapaksa government did this big blunder and thus delaying LG polls for more than two years," the minister asked.
He vowed to expose all those who were responsible for this situation and challenged the JVP and the JO to win the no-confidence motion if possible. (Sandun A Jayasekera)