---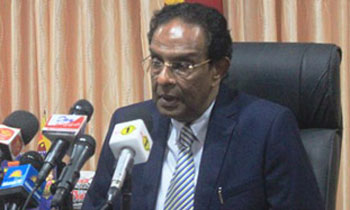 Discussions were underway to handover the land where the Mullaithivu Army camp is located to its rightful owners within the next month, Prison Reforms, Rehabilitation, Resettlement and Hindu Religious Affairs Minister D.M. Swaminathan today said.
The minister said 70 acres of land where the camp is located will be given to the previous settlers while the ministry bears the camp's relocation cost of Rs. 140 million.
Addressing a press conference the minister said the Military bases should re-located in the government lands and the private lands should be immediately distributed to their owners.
"People's grievances is acceptable. It is the Army who is residing in private land. People requested to release their land conducting hunger strikes and protests. The defence officials are ok with relocation however ask the ministry to bear the cost for such moves. We already requested the funds from the Treasury," he said.
When question on the security concerns of the North and East and the sudden spike of tense situations in the area, the minister said the ministry is not removing the Army camp but just relocate them. Therefore minister said the programme would pose the security at risk.
He further said under the programme 150 acres and 240 acres of land that were released in Keppapilavu area before and as the third slot 110 acres will be released in the near future.
The Minister said the ministry is looking forward to release a total of 3,600 acres of land by the end of the year.
The minister said Opposition Leader R. Sampanthan and MP Douglas Devananda also participated in the Keppapilavu land issue discussions. (Thilanka Kanakarathna)