---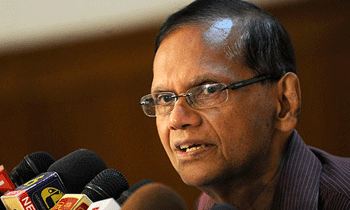 The Sri Lanka Podujana Peramuna (SLPP) said today there was a plan by the government to sidestep the parliamentary debate on the bond commission report by saying the matter was sub judice.
SLPP Chairman G.L. Peiris said the government had repeatedly attempted to block the debate on bond commission report.
He said the President received the report on December 30, last year.
"After a long delay, the report was released on January 17, 2018 with something strange happening on February 2. A 'B' report was filed in the Magistrate's Court on Arjuna Mahendran, Arjun Aloysius and Kasun Palisena with Court preventing the alienation of their properties to any third party. There is a plan to raise the sub judice issue in Parliament to prevent the debate from taking place. The argument is that the matter is now in court and therefore the debate is not possible. This is absolute nonsense," he told a news briefing.
Prof. Peiris said the debate was about a wide ranging report prepared by a presidential commission in which two Supreme Court judges sat.
"If the debate was dissolved for sub judice reason, then any matter of public importance may be avoided from being debated in Parliament by simply filing a B report in a magistrate's court," he said and added that it was the duty of Speaker Karu Jayasuriya to allow the debate to proceed.
He said the government tried from the beginning to dilute the gravity of the bond report by coupling it up with the PRECIFAC report and pointed out that the arrest of Arjun Aloysius and Kasun Palisena without the arrest of former Central Bank governor Arjuna Mahendran is similar to 'Hamlet without the Prince'. (Lahiru Pothmulla)
Video by Sanjeewa