---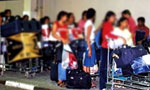 More Sri Lankan and Bangladeshi women have been coming to the United Arab Emirates (UAE) in recent years because of the shortage of housemaids there in the wake of a ban imposed by some other Asian nations on women going to the UAE to work as housemaids, Gulf News reported today.
Diplomats of the two countries said it was compulsory for housemaids from Sri Lanka and Bangladesh to undergo a few weeks of training so that they would be with the skills necessary to work at such jobs abroad.
Traditionally, housemaids coming into the UAE were from the Philippines, Indonesia, India, Nepal and Ethiopia.
Philippines, Indonesia and Nepal recently banned women from going abroad.
The number of Indian housemaids coming to the UAE saw a drastic reduction in the wake of stringent restrictions imposed by the Indian Government.
Although Ethiopia too had banned the emigration of housemaids, the ban was lifted recently. (Gulf News)