---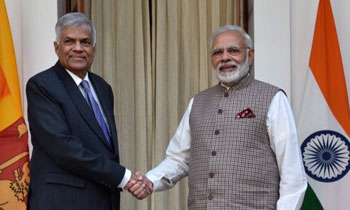 Prime Minister Narendra Modi today met visiting Sri Lankan Premier Ranil Wickremesinghe in New Delhi, Indian media reported.
"Neighbourhood first," External Affairs Ministry spokesperson Raveesh Kumar tweeted. He added that Modi received Mr. Wickremesinghe at Hyderabad House and that both countries "share strong and close relations based on mutual trust and respect".
The Sri Lankan PM who arrived here on Tuesday on a four-day visit will hold bilateral talks with PM Modi and will also call upon President Ram Nath Kovind.
As per reports, Mr. Wickremesinghe and Modi will hold wide-ranging talks on strengthening ties between the two nations including ways to boost trade and security cooperation.
Talks on the issue of Indian fishermen being arrested by Sri Lanka and the growing presence of Chinese Navy around the Island nation are also likely to take place between the two leaders.
Earlier in the day, Mr. Wickremesinghe participated in the opening ceremony of the fifth Global Conference on Cyber Space (GSSC) at The Aero City in the national capital which was inaugurated by PM Modi.
Sri Lanka is one of the major recipients of development credit given by India, with total commitment of around $2.63 billion, including $458 million as grants.
Indian aid includes development projects in areas like education, health, transport connectivity, small and medium enterprise development and training in many parts of the country through grant funding.
Prime Minister Modi had visited Sri Lanka in May during which he attended the biggest Buddhist festival 'Vesak Day' as its chief guest.
The Sri Lankan Prime Minister will wrap up his visit on Friday.