---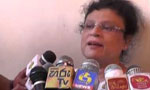 Central Province Governor Neluka Ekanayaka said today a miscommunication between her and Chief Minister Sarath Ekanayaka had resulted in 29 PC members travelling to Russia last morning in violation of presidential guidelines.
She said the Chief Minister informed her that the President had verbally approved the foreign trip.
The Governor said she had instructed Council's Chief Secretary to conduct a thorough inquiry into the foreign trip by a group of PC members using unused council funds allocated last year.
"I will submit a full report on the incident to President Maithripala Sirisena because he has given us clear instructions on how foreign tours should be undertaken," the Governor said.
She said 56 PC members and 14 officials were to undertake the trip to Russia and that it was the Chief Minister who had informed her in writing that President Sirisena had consented to the tour.
"I had no reason to double check whether President had approved the foreign trip because it was the Chief Minister who informed me. I realized that the President was unaware of the tour until he returned home from the US last night," the Governor said today.
However, President Sirisena had allowed the 29 PC members and officials to go ahead because by the time his instructions were received to cancel the tour, the members and the officials were at the BIA with their air tickets. The remaining 41 PC members and officials would not be permitted to travel abroad.
The Governor admitted that this was not the proper time to undertake foreign trips of this magnitude using Council funds because the Central Province was faced with huge financial constraints.(Sandun A Jayasekera)