---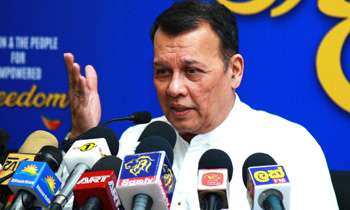 Four cabinet Ministers who had told the canard that President Mithripala Sirisena at Tuesday's cabinet meeting had incriminated India's Research and Analysis Wing (RAW) for an attempt on his life, to the Hindu Newspaper Colombo Correspondent Meera Srinuivasan must be exposed and they themselves must come forward and admit the blunder and apologize, Ports and Shipping Minister Mahinda Samarasinghe said today.
"We have no intention to press journalists to reveal their source. But it is quite obvious that certain cabinet ministers have given this false information to the media. The government must go to the bottom of the false propaganda and expose the four Ministers who misled the media, the public and the government. There is no doubt that the false news item has been planted in the media to create a misunderstanding between Colombo and New Delhi and also to harm the centuries old cultural, trade, religious and social links between India and Sri Lanka. That is a thorough inquiry is necessary to find the origin of this fabrication and purpose behind it," Minister Samarasinghe noted.
"It is better the cabinet Ministers who gave the misleading information to journalists come forward, accept their blunder and apologise because the repercussions of the false news item is extremely serious and affect the cordial links of two neighboring countries," he added.
He charged that media reports on remarks allegedly made by President Sirisena incriminating the RAW for an attempt to assassinate him was a complete fabrication aimed at creating a division between President Sirisena and Indian Prime Minister Narendra Modi and the two countries and added the issue will be fully discussed at the next cabinet meeting.
Minister Samarasinghe said a highly perturbed President Sirisena spoke to Prime Minister Modi and explained to him the true position on Wednesday afternoon and added that New Delhi issued a statement to pacify the situation after that.
On face value of the news item published in 'Hindu' the leading Indian national Newspaper, four ministers had reportedly told Colombo Correspondent of Hindu Meera Sirinivasan that President Sirisena had told the Ministers at the weekly cabinet meeting on Tuesday that there had been an attempt on his life involving the RAW. It was an unfounded and absolute lie, Minister Samarasinghe stressed.
Addressing the weekly SLFP news briefing at the party office yesterday, Minister Samarasinghe said the matter was extremely serious and needed thorough investigation to find out the truth and the motive behind the canard.
President Sirisena was highly upset on these negative developments. He spent the entire day, Wednesday to calm down the situation because the false propaganda involves two neighboring and friendly countries, he noted.
Responding to a journalist on the question whether four Ministers could say the same story, Minister Samarasinghe asked could any one reject the statements issued on this issue explaining the correct position by Indian government, Presidential Secretariat, Cabinet office and Foreign Ministry.
Minister Samarasasinghe said President Sirisena also met the Indian High Commissioner, Taranjit Singh Sandhu and explained to him the correct situation. (Sandun A Jayasekera)
Video by Buddhi