---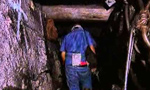 Miners at the Bogala Mine in Kegalle have commenced a Satyagraha, 1,670 feet underground, demanding salary increments and other employee benefits, the Inter Company Employees Union (ICEU) said.
Assistant Secretary to the Union T. Hetticarchchi said that the workers would continue the protest until their demands were met.
A salary increment of Rs. 5,000, festival holidays, insurance and safety gear were the main demands of the employees engaged in the sathyagraha.
"Some of these employees work in just their sarongs, they need uniforms and safety gear," Hettiarchchi said.
There were at least 50 employees engaged in the Sathyagaraha underground while 150 employees were protesting above ground.
Graphite is mined at the center.
Video by Saliya Gamasinghe