---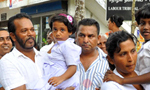 The nine students who were not admitted to the Meegahatenna Primary School will be admitted to a school in Matugama or another school in the Educational Zone.
Recently, the issue of admittance saw parents protesting outside the school. It also prompted Deputy Minister for North Western Development and Cultural Affairs, Palith Theruwapperuma to threaten suicide forcing the hand of school officials to admit the children.
Thereafter, the Minister and the mothers of the children were arrested on charges of unlawful assembly and forcible entry to the school and were later released on bail.
Western Province Education Minister Ranjith Somawansa said the ministry had taken measures to end the clash between parents and the principal of the school, which had lead to legal action.
"We decided to end the matter by providing those concerned with alternative solutions so whatever legal measures that was taken can come to an end," he said.
The primary school which was shut down by the controversy is to be reopened on Monday (11).(S.Madawala)