---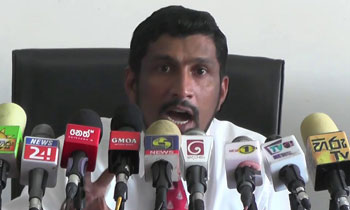 There would be a huge outcry in the country if the Sri Lanka Medical Council's (SLMC) 'altered' technical report on minimum standards for medicine, which was submitted by the Health Minister, was passed in Parliament, the Government Medical Officers' Association (GMOA) warned today.
At a press briefing convened by it, GMOA Assistant Secretary Dr. Naveen de Zoysa accused that the minister had altered the technical report in such a way as to reduce the powers of the SLMC before it was submitted to the Cabinet.
He said it was possible for medical faculty students to restart their struggle if needed and the health minister and University Grant Commission (UGC) Chairman Professor Mohan De Silva should take the blame if this happened.
According to Dr. de Zoysa, the minister had also objected to gazetting the minimum standards of medicine in 2006 and 2010.
He further said the minister has no right to amend the proposals which were agreed to by all the responsible parties. "The entire health sector will be disrupted again with this move," he added. (Thilanka Kanakarathna)