---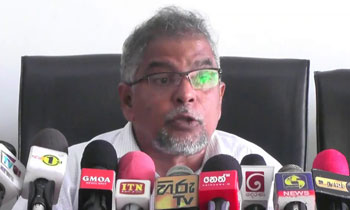 The Medical Faculty Students' Parents' Association (MFSPA) today said the discussion they held with Secretary to the President Austin Fernando on SAITM was unsuccessful, even though President's Media Division claimed in a statement that the discussion was positive.
MFSPA Media Spokesman Dr Nimal Karunasiri told the Daily Mirror that whatever they had hoped from this discussion was not achieved and added that only the name of the South Asian Institute of Technology and Medicine (SAITM) would be changed with this decision.
"This institute will continue even in the future. The SAITM should be completely abolished and it should not be continued as any other institute as well. An interim committee should be appointed with regard to this issue," added.
He said that the MFSPA would resort to a fast unto death protest on Monday (6) as scheduled if the related authorities would not provide them with an actual solution to this issue by then.
However, President's Media Division said in a statement that the MFSPA had appreciated the steps taken by President Maithripala Sirisena solve the SAITM issue and added that they had made positive remarks on the latest decision taken by the government on the issue. (Kalathma Jayawardhane)