---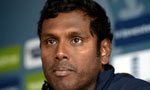 Sri Lanka captain Angelo Mathews has questioned plans to introduce a points system for his side's upcoming tour of England.
The proposal is, as happens with the women's Ashes, to aggregate the results of all the international fixtures this season between England and Sri Lanka.
A similar scheme is envisaged when Pakistan visit for the second half of the English season, with the England and Wales Cricket Board (ECB) holding talks with their counterparts in Sri Lanka and Pakistan.
"I don't like to move away from the traditional game but whatever the administrators decide we'll have to go with and move on," Mathews told reporters at Lord's on Friday after former England captain Michael Vaughan labelled the proposal a needless "over-complication".
"We have to experience and see whether it's good or bad," added the 28-year-old all-rounder.
"I don't like to move away from the traditions of the game. I like the good old five days," he said.
Sri Lanka's previous tour of England in 2014 saw them win series in all three formats - Tests, one-day internationals and Twenty20.
The Test campaign was particularly significant for Sri Lanka as it was the first time they had won a series, as opposed to a one-off Test, in England.
After clinging on for a draw at Lord's, they won a thrilling second and final Test at Headingley off the penultimate ball of the match.
Headingley is where this year's three-Test series between England and Sri Lanka will start on May 17.
One major difference is that the tourists will be without batting greats Kumar Sangakkara and Mahela Jayawardene, who have both retired from international cricket although left-hander Sangakkara is now playing for English county side Surrey.
Between them the pair scored over 24,000 Test runs and Mathews said: "We don't have Sanga (Kumar Sangakkara) and Mahela (Jayawardene) any more.
"But we've got to move on and take up the challenge with who we have in the squad and I believe we can still win if we play to our potential.
"We've got some fearless players in our team. That can be a plus point for us."
And there was plenty of "fearless" cricket on show when Mathews struck a brilliant 160 in the second innings at Headingley two years ago to set up his side's 100-run win.
It looked as if tailender James Anderson was about to deny the tourists victory until, with just one delivery in the match remaining, he fended at a short ball from paceman Shaminda Eranga and was caught close in.
Afterwards a distraught Anderson was in tears and Alastair Cook later admitted he had thought about standing down as England Test skipper after the defeat.
"That is one moment that we will always cherish for the rest of our lives," said Mathews.
"We'd never won a Test series in England before and to be able to do that as a team was fantastic. If we can repeat that once again it will be ideal for us."
Sri Lanka have coach Graham Ford back for a second stint with the national side after the South African cut short his time with Surrey to rejoin the islanders.
"It was a really tough decision but nice to be back with the Sri Lankan boys and experience the wonderful fighting attitude that they have and their passion for the game," Ford said.
"I think, first and foremost we are here to try to win the Test series and I believe we can do that."
But with England having both won the Ashes at home and triumphed in a Test series in South Africa in recent months, Ford expects a tough contest.
"They (England) have played fantastic cricket for a while now. They surprised some people in winning the Ashes convincingly but that certainly sent out a message as to what a good team they are.
They played very well in South Africa too.
"But there's no better way to grow a young team than to play against a really good outfit."(AFP)