---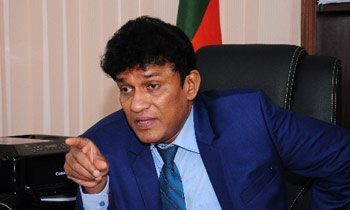 The Tamil youth held under detention as political prisoners, could be given bail in the same way Opposition MP Wimal Weerawansa was granted bail, Minister of National Co-Existence Mano Ganesan had urged President Maithripala Sirisena in a letter.
According to the letter that had been sent to Tamil media by the Ministry, Minister Ganesan had requested the President to make arrangements to grant bail to Tamil political prisoners and to rehabilitate them and release them into society.
"The Attorney General did not object bailing out of MP Weerawansa. Therefore, I urge to consider about granting bail to Tamil political prisoners as well. There cannot be two separate laws in the country, one for Mr. Weerawansa and another for Tamil political prisoners," he said in the letter.
"Everyone is equal before the law," he said.
He also questioned as to how the Government could bring about reconciliation and ethnic harmony, if these prisoners were continually kept in prison.
"Approach the issue on humanitarian grounds," the Minister said in the letter, while highlighting that he would take up the issue at the next Cabinet meeting. (Yohan Perera)