---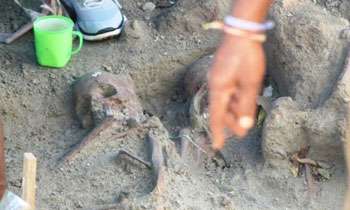 Skeletal remains belonging to 53 individuals had been unearthed by yesterday from excavations of the mass grave in Mannar Sathosa Building Site, Judicial Medical Officer S. Rajapaksa said today.
He said the excavations of the site were being done under the supervision of Mannar Magistrate T.G. Prabhakaran.
He said 34 out of 53 skeletal remains that had been unearthed were sealed and placed at the Mannar Magistrate's Court.
The excavations of the site began after some skeletal remains were found while digging a foundation for the Sathosa building by workers in March. (Romesh Madushanka)