---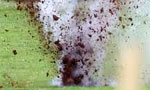 A man was injured in an explosion suspected to be of a hand grenade this evening at a sawmill in Ranala at Nawagamuwa, Police said.
They said the blast had occurred at around 1.45p.m. The man had been working alone in the sawmill and both of his legs were injured by the blast.
He was admitted to the Nawagamuwa hospital for treatment, police said.
Nawagamuwa police are investigating.