---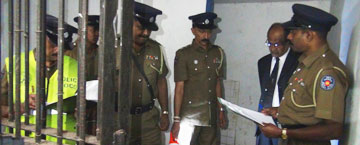 The death of a 30-year-old man while in police custody has resulted in a Sub Inspector and a Police constable attached to the Pussellawa Police Station to be suspended from duties.
Kaviraj Ravichandran, a resident of Pussellawa was arrested on a warrant issued by the Helboda Court on September 17 and was later reported to have committed suicide by hanging inside the prison cell.
The Gampola Police Superintendent has launched an investigation into the incident.
Police said the SI and the constable were on night duty at the time the incident was said to have happened. They had been faulted for failing to keep the man under observation while he was in the police cell.
The cause of the death would be determined on the basis of the magisterial inquiry and the postmortem examination.(Darshana Sanjeewa)