---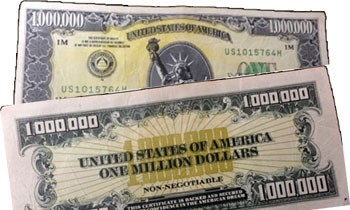 The STF arrested a man who was in possession a forged US currency note with a face value of one million dollars.
He was arrested yesterday at Mancholachchemai in Kinniya during a raid conducted by STF personnel from the Vavuniya and Trincomalee camps.
They also took into custody a certificate issued for the note, a copper coin and a copper plate from the suspect's possession. The man was later handed over to the Kinniya Police.
Earlier, Police arrested several others who had in their possession one million dollar notes in Colombo and Trincomalee.
Police said such currency notes were printed and issued as souvenirs and could not be used for financial transactions.(Darshana Sanjeewa)