---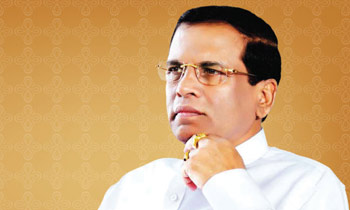 On the advice and instructions of Mahanayake Theras of the Malwatta and Asgiri Chapters, Lekakadhikari Theras, Ven Dr. Medagama Sri Dhammananda Thera (Asgiri) and Ven Dr. Pahamune Sri Sumangala Thera (acting Lekakadhikari Thera of the Malwatu Chapter) had presented a letter containing 21 points, in which the two chapters request for response.
This document was presented to the President at his official residence in Kandy during a visit made by him today. The President thereafter met both the Lekakadhikaris and the Monks of the senior Sangha Saba.
Don't open road in front of Maligawa
Is Sri Lanka a narcotics hub?
Introduce solution to N/E issue
Secure powers of President
The document covered the subject of official vesting of all buildings within the precincts of the Dalada Maligawa, with the Dalada Maligawa, refraining from opening the road in front of the Maligawa, and construction of a broad tunnel up to Louis Peiris Mawatha and Rajapihilla with the aim of easing the traffic congestion in the Kandy town, the concern about Sri Lanka being used as head quarters for drugs, undertake the widening of the Katugastota, Asgiriya, and Getambe road.
The monitoring of activities of NGOs, making people aware if bringing in a new Constitution or making amendments to the present one, ensuring the Wildlife conservation areas, creating awareness on the reconciliation council, its aims and the proposed activities, and in introducing a political solution to the North East issue by further securing the powers of the President and arriving at a solution with powers centered at the central government were highlighted in the 21-point letter presented to the President.
"The Upcountry Village Rehabilitation Commission should be restored and steps should be taken to uplift the Sinhala people living in the land locked villages in between prominently Muslim and Tamil villages. The public representatives in these electorates are virtually Tamils or Muslims who purposely neglect the prominently Sinhala villages. This compels them to sell their traditional land to the Muslims and leave the area. It is necessary to create awareness in this regard," the letter also highlighted. (J. A. L. Jayasinghe)