---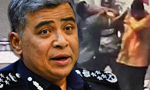 Malaysian police have increased security measures for Sri Lanka's High Commissioner to Malaysia after he was assaulted at the Kuala Lumpur International Airport (KLIA) earlier this month.
Malaysian Inspector-General of Police Khalid Abu Bakar also said his men were looking for four more suspects who were allegedly involved in the attack on Ibrahim Sahib Ansar.
"We have arrested five so far. I regret what had happened and we have increased the security for the high commissioner.
"We have stationed a security team at his residence and his office, and we have provided him with personal security," he said at a press conference in Bukit Aman this morning.
Earlier reports had stated that a group of Malaysian Tamils had assaulted Ibrahim at a restricted area in the KLIA, with CCTV footage showing the angry mob cornering and questioning him before beating him down to the floor.
The assault on Ibrahim came after some 50 people had gathered outside the Putra World Trade Centre to protest against the visit by former Sri Lankan President Mahinda Rajapaksa, whom they accused of being a "war criminal".
The protesters cited the killing of thousands of Tamils during the civil war in Sri Lanka that ended in 2009, as a reason for their objection against Rajapaksa's attendance at the conference of Asian political parties organised by the Malaysian Government.