---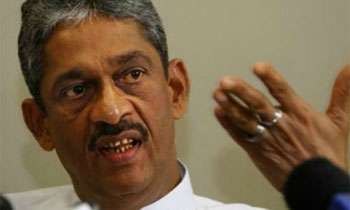 MP-Field Marshal Sarath Fonseka today proposed that an amendment should be brought in to the Constitution making it compulsory for the Head of State, service chiefs and others who hold important posts in a Government to go through a mental fitness test annually.
Field Marshal Fonseka said Sri Lanka should follow the USA in this regard.
"The US President is bound to go through a mental fitness every year, while the others including the Service Chiefs who have the final say in launching nuclear weapons also bound to do the same.
"I suggest that similar laws should be in place in Sri Lanka as well," he said.
He said such laws had become a necessity when considering the repeated accusations made against him with regard to a plot to assassinate the President.
Parliamentarian Field Marshall Fonseka tabled letters written by returning officers of the Anuradhapura and the Matara Districts during the 2010 Presidential Election to IGP complaining that officials in some counting centres were chased away.
"The documents which I table today make the final result of 2010 Presidential Election questionable," he added. (Yohan Perera and Ajith Siriwardana)
Video by RM