---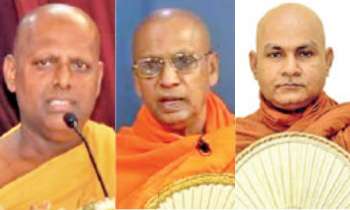 The communiqué was signed by its Chairman Ven. Diviyagaha Yasassi Thera, Joint secretaries Mahanayake Ven. Trincomalee Ananda Thera of Amarapura Sri Dharmarakshitha Nikaya, and Prof. Ven. Agalakada Siri Sumana Thera.
The statement further said: "It is an accepted fact that there is a chaotic situation among the general public due to the unstable situation that has emerged in the country based on the prevailing crisis in the administrative machinery. This chaotic situation seems to have emerged largely due to those concerned focusing on personal agendas. Priority should be given to the objectives of the people.
The solution to this problem has to be sought according to the theory of Cause and Effect of Lord Buddha. This problem will not be solved when the of the others are going to be highlighted without seeking their own fault.
We urge the President, the Speaker and all political party leaders to act fast to ensure democracy in the country. Since there is consensus for an election from many factions, we feel an atmosphere should be in place for the conduct of a peaceful election.