---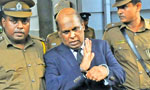 Colombo Additional Magistrate Nishantha Pieris today directed the CID to name former DIG Anura Senanayake - who is now in remand over the killing of ruggerite Wasim Thajudeen - as a suspect into the abduction of two persons at Kotahena if the CID investigations reveal his involvement in the incident.
The Magistrate made this direction to SI Sunil Saranapala of the CID following his submissions made in connection with the abduction of Vadivel Pakkilisamy Loganathan and Ratnasamy Paramanandan of Bloemendhal Road Kotahena.
SI Saranapala submitted that they initiated investigations into the incident on a complaint made to the CID by Laganandhan Chitradevi on June 6, 2016.
He said it was revealed that before the CID took charge of the investigations, the Police Special Investigation unit, Borella Police, Western Province Intelligence Division, the Army Intelligence Division, Air Force Intelligence Division and the Navy Intelligence had investigated the incident.
Therefore, the CID had written to those units for reports on their investigations to peruse them and to elucidate whether the two missing persons were LTTE cadres or those involved with the movement.
SI Saranapala said the CID had so far not received any response from any of the units.
Mr. Saranapala said however they had recorded statements from the investigation officers of the units who conducted investigations into the abduction.
He said according to ASP M.A. A. Senarath Jayathilaka of the CCD, the ASP had seen the Van allegedly involved into the abduction going towards the Welisara Navy Camp and had sought the permission of the then Director of the CCD DIG Anura Senanayake to arrest the van.
Mr. Senanayake had refused to give permission to the ASP to arrest the van and ordered the ASP to only carry out orders given by him (Mr. Senanayake).
The ASP had stated that Mr. Senanayake did so due to his involvement with the then Defense Secretary Gotabaya Rajapaksa, Head of National Intelligence Unit Kapila Hendavithana and some naval officers.
Further investigations are being conducted by the CID and the case will be taken up again on October 27. (T. Farook Thajudeen and Shehan Chamika Silva)