---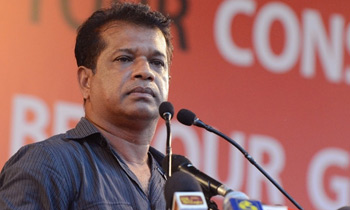 Former JVP stalwart K.D. Lalkantha said yesterday that President Maithripala Sirisena formed a government with a cabinet with a thieving lot and acceded his presidential supremacy to Prime Minister Ranil Wickremesinghe.
Mr. Lalkantha said though President Sirisena assumed office as the President, he was merely acting as a normal citizen having relinquished his powers to Mr. Wickremesinghe.
"The President was appointed by the people's votes and should help on their issues. Without doing so he is watching till the PM interferes and resolves the matters. To stay on the Presidency he should focus on the public matters and work towards finding solutions for them," he said.
Mr. Lalkantha expressed these views while addressing a media briefing organized by the National Trade Union Centre (NTUC) and vowing stern trade union action against the government, forcing to resolve the controversial South Asian Institute of Technology and Medicine (SAITM) issue.
He said by pulling the SAITM issue now the situation has worsen and the deadline they have given to the government to find a better solution is expiring on April 3 and with the partnership of private and public unions they would seek stern trade union action against the matter.
He also said that without the doctors all the other medical services employees has commenced their support over the trade union action. However, he requested the support of the patients who is in the hospitals when their trade union action is on.
"We would kneel down the government to shut down SAITM. We kindly request patients who are in the hospitals to support our strike and not to deny our struggle as it is for safe guard the country's health service and to save the patients' health," he said.
Further, Mr. Lalkantha said former President Mahinda Rajapaksa has raised his voice against the SAITM with the intention of taking political advantage out of it. He said that his interference on the matter is because he doesn't have the power and might do the same thing President Sirisena doing now if the supreme power was in his hand. (Thilanka Kanakarathna)