---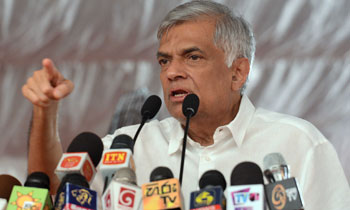 Responding to a statement made by former President Mahinda Rajapaksa that he will topple the government by the time the country celebrate Vesak, Prime Minister Ranil Wickremesinghe today said the former President will have to weep by the time Sri Lanka celebrates Vesak in 2018.
The Prime Minister made this remark at the United National Party rally in Kiribathgoda this evening.
"The former President initially said he will topple the government in January this year. I said he can do it when I go abroad but he did not do so. However he will actually have to cry before Vesak in 2018 as the results of this government's development plans will begin to show around that time" he said.
He then went on to say that a Thai company had come to look at the possibility of establishing a trade zone in Kalutara while negotiations will begin with Singapore and India to develop the East. He said he would go to India and Japan shortly to start up negotiations. The Prime Minister aided that the government had made concrete plans to take the country out of the debt trap. He said leasing out the Hambantota Port was one way through which the government was going to do it. "The government will have no choice but to increase VAT if it does not go ahead with the leasing of the Port," he said
The Prime Minister then questioned as to why the previous government agreed to start paying off the funds it borrowed from Exim Bank to construct the Hambantota Port in 2016 without having longer grace period till 2020. He then questioned as to why the then government signed an agreement to give a stake of the Hambantota Port to China and also to why a portion of reclaimed land under the Colombo Port City was given outright to China. (Yohan Perera)