---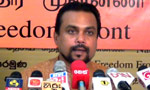 National Freedom Front (NFF) Leader Wimal Weerawansa said the last batch of army personnel attached to former President Mahinda Rajapaksa's security detail had been asked to report to the Army Headquarters.
He said this was a sign that the government feared Mr. Rajapaksa
"This also proves that the government has affected by the 'Mahinda Rajapaksa Phobia' when considering the fact that all army personnel have been removed from Mr. Rajapaksa's security detail," he said.
Mr. Weerawansa told a media briefing that the report on the government deploying the Special Task Force's (STF) personnel for Mr. Rajapaksa's security was a lie.
"Instead of STF security, the government has assigned personnel from the Ministerial Security Division for Mr. Rajapaksa. This move will prove dangerous. By pulling out the remaining army personnel, the government may be attempting to place Mr. Rajapaksa's life in danger," he added.
Mr. Weerawansa said the government might have thought it was the best time to withdraw the remaining army personnel because of the current weather conditions and the upcoming Vesak celebrations.
"It is a despicable act to take such a step. There should not be any political influence when it comes to a national crisis," he said and added that NFF decried this attempt to put Mr. Rajapaksa's life in danger. (Kalathma Jayawardhane)
Video by Richan