---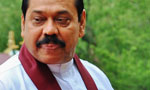 Former president Mahinda Rajapaksa has not been invited to participate in the Victory Day ceremonies being held on May 18, Defence Secretary Karunasena Hettiarachchi said today.
The seventh war victory celebration, "Sanhindiyawe Piya Satahan" is scheduled to be held at the War Memorial in Battaramulla under the patronage of President Maithripala Sirisena. The event is to be followed by a cultural show at the Independence Square in Colombo.
Mr. Hettiarachchi told a news briefing held at the Government Information Department that Prime Minister Ranil Wickremesinghe, Commanders of the three armed forces, parliamentarians, war heroes, the Police, the Civil Defense Forces and war heroes' family members will participate.
Government parliamentarians were billed to participate while neither the former president nor his supporters invited. The public have been invited to the cultural show.
Meanwhile, when asked whether another War Victory Day was being organized in Kurunegala at which the former president and his supporters would participate, Mr. Hettiarachi said that he had also heard about the rumour.
"None of the military personnel have been given permission to attend any such event," he said.
The Government had decided not to hold a military parade because it was too costly to do so. (Darshana Sanjeewa)