---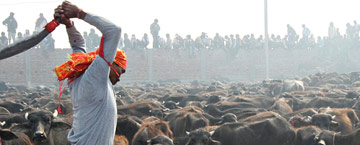 The Ministry of Rehabilitation, Resettlement, Prison Reforms and Hindu Religious Affairs is expected to submit a Cabinet paper next week seeking to introduce legislation banning all forms of animal sacrifices at Hindu temples.
The Hindu Religious and Cultural Affairs Department has already drafted the legislation which has been endorsed by the Legal Draftsman's Department.
On earlier occasions several protests were held opposing animal sacrifice as part of religious rituals.
The Department said the practice of sacrificing animals at Hindu Temples in the in Northern Sri Lanka, especially in the Districts of Jaffna and Puttalam was continuing despite the protests by several organizations and well-known personalities raising their voices against such practices.
"Animal sacrifices are usually carried out in village temples for local deities or clan deities like Amman, Bairavar, Muniyappar , Kaattha Virayar, Aiyappan, Veerapaththirar, Paththirakali Amman.
These deities are said to be 'guardian lords' of villages and villagers have developed a tradition of sacrificing, cows, goats and cockerels to appease the wrath of the deities.
Villagers believe that sacrificing animals, called 'Bali' means "tribute offering or oblation" and often practiced for no rhyme or reason. "Bali" among other things refers to the blood oblation of an animal and is known as "Irattha Bali" among Jaffna villagers.
In Hindu precepts, there is no mention of these types of "Bali" or ritual sacrifices practiced in many temples," the Department said. (Kelum Bandara)