---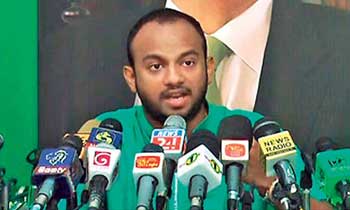 The law will be enforced on Central Banks former governor Arjuna Mahendran in the same way it had been enforced on Sri Lanka's former ambassador to Russia, Udayanga Weeratunga, who was arrested by Interpol, UNP MP Kavinda Jayawardene said yesterday.
He said this at a media briefing held at UNP Headquarters, Sirikotha yesterday.
"You can see how the Interpol arrested former Udayanga Weeratunga over the weekend. Arjuna Mahendran will also be dealt in the same way because the rule of law would be enforced on all wrongdoers," Dr. Jayawardene said responding to a question asked by a journalist about Mr.Mahendran's fate.
The journalists reminded Dr. Jayawardene that Prime Minister Ranil Wickremesinghe had assured he would take the responsibility for enforcing rule of law on Mr. Mahendran if he was found to have committed any wrongdoing.
When asked whether Mr. Weeratunga's arrest was a political gimmick in the wake of the LG elections, he said it was not so.
"Can we ask Interpol to arrest him because the LG elections are round the corner," Dr. Jayawardena asked.
He assured that the law would be enforced on everyone including Mr. Mahendran and those who have been named in the PRECIFAC report.
Dr. Jayawardene said the arrest of Mr. Aloysius and CEO Kasun Palisena may have been delayed because of the inquiry being carried out by the Bond Commission.
"Prime Minister Ranil Wickremesinghe requested Attorney General to take action against those who have been accused of the CB bond scam in 2016. However, the Presidential Commission was appointed later. This situation may have delayed action against those who were charged with the bond scam," he said and added that the UNP was ready to debate the PCoI and PRECIFAC reports in Parliament today. (Yohan Perera)
Video by Susantha