---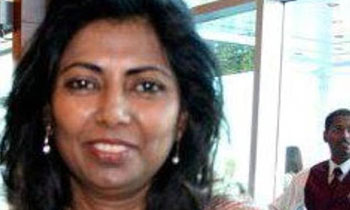 A Sri Lankan born 63-year-old woman identified as Geetha Howie was killed when she was stabbed in Staten Island, US on Monday, CBS News reported today.
Police said a 27-year-old Dantey Moore faces charges of murder, assault and criminal possession of a weapon in the death of the victim.
They say despite having no known gang affiliation, Moore has a history of violence and drug use and 34 prior arrests.
However, the suspect had denied committing the crime when he was approached by CBS2's Reena Roy. "I didn't do it," he said.
A brother of the suspect has told CBS2 that Moore sometimes smoked angel dust, but he couldn't tell if Moore had smoked or been high Monday around the time of the incident.
Relatives of the victim said she had just left the bank after 2 p.m. Monday when she was confronted by the suspect just two blocks from her home.
A neighbor, Mark Long, was the first person to hear Howie's screams as she struggled with the suspect.
Police sources say when officers got the scene, Moore was cradling Howie in his arms.
Victim's son-in-law Daniel Fazzina said Howie was adored by her loved ones. Their family had been preparing to travel to Sri Lanka for a relative's wedding.
"She loved her family. We have a 3-year-old daughter, her granddaughter, who she absolutely loved. They were inseparable. This is a senseless tragedy," Fazzina said.
Siri Katugampala, a family friend, said Ms. Howie was a good person. "You're walking on the street and something like this happens. Who would expect something like that? It's sad," he said.
Cops who made the arrest told CBS2 they are very familiar with Moore. This was his 35th arrest.