---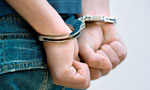 A Sri Lankan man was arrested for brewing alcohol at his apartment in Salmiya, Kuwait, the Kuwait Times reported today.
It explained that a fire broke out at the apartment in the suspect's absence and firemen who responded to the situation had discovered the alcohol.
The fireman thereafter placed the apartment under surveillance, until the suspect returned to check the damages.