---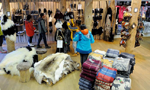 Sri Lankan national has been arrested in Southern Iceland on suspicion of keeping two Sri Lankan women as slaves in the town of Vik.

The man detained was a sub-contractor for the Icewear knitting factory in the town of Vík.

The popular Víkurprjón shop in the town has terminated its contract with Icewear in the wake of this arrest.

It is believed that the two women in question were kept in the basement of the man's home, which he shares with his wife. (Iceland Monitor)