---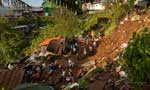 About 450 persons from 200 families were displaced and 16 sustained injuries when a landslide occurred in the interior of Aranayake, Mawanella this evening, police said.
Ratnapura District DIG Rohan Dias said the villages of Siripura, Elangapitiya and Pallebage in the Aranayake Police Division were reported to have been buried under a landslide that occurred at around 6.00pm today.
Around 200 families are believed to have been living in the villages and 80 of them had moved to safer places according to the DIG.
14 of the injured persons have been admitted to Aranayake Hospital and two to Mawanella Hospital.
Meanwhile Minister Ranjith Siyambalapitiya, who visited the site of the landslide, said boulders were falling from the higher elevations towards the area where the tragedy had taken place together with gushing waters.
"This situation prevented the police and army from reaching the site," he said. He said a thick mist was a further hindrance.
The minister said a medical team with the necessary equipment was kept ready for the rescue operations which would be resumed this morning. Air Force helicopters were also expected to be called in for the rescue operations.
This is the worst landslide in the country since the Meeriyabeddha landslide of October 2014, which killed at least 16 people and buried 200 people whose bodies were not recovered. (Chaturanga Pradeep, Yohan Perera and Rohan Kumara)