---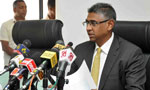 The much anticipated local government polls will be held in February next year provided the delimitation committee submits its final report to the Local Government and Provincial Councils Ministry at least by October, Subject Minister Faizer Mustapha said today.
He told a media conference he had given a two-month extension to the five-member delimitation committee chaired by retired senior public servant Asoka Peiris to complete the work.
"Elections Commission Chief Mahinda Deshapriya is reported to have said he needs a minimum 65 days to make arrangements for the LG polls from the date it's declared. I hope the report will be submitted before end October so that the elections can be held in February," the minister said.
"All political parties including the UNP, SLFP and the JVP agree that the LG polls should be held under the new electoral system for which the delimitation process has to be completed," he said.
Under the electoral reforms the 335 LG bodies in the nine provinces will elect 482 members from two-member wards and another 27 from three-member wards from the nine provinces.
The number of elected members for local government bodies will thus be increased by 585 from current 4,486 representing 335 local government bodies.
The minister said he wanted a level playing field for all political parties contenting the elections and it was for this reason that he was keen to have an error-free delimitation.
Other members of the committee are S.M. Misbah (UNP) Saliya Mathew (UPFA) Upul Kumarapperuma (JVP) and P. Balasubramaniam (TNA). (Sandun A Jayasekera)