---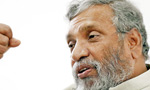 Amidst talks about the local authorities' elections early next year, the Elections Commission will start compilation and updating of details about staff members to be recruited to poll related duties in the future, it is learnt.
The Commission's Director General Ananda Ratnayake submitted a paper in this regard for consideration by the Commission. Commission's Chairman Mahinda Deshapriya said he, along with other Commissioners, would meet on December 21 to approve this.
Public Service Officials and school teachers are assigned for election duties.
"We will start compiling and processing details as per the practice," he said.
The Commission has already completed work on the arrangements of places to function as polling stations.
Also, the Commission asked the Secretary to the Local Government and Provincial Councils Ministry in writing to announce the number of members to be elected to each local body in a gazette notification soon after the delimitation report is submitted.
The Special Delimitation Committee, headed by Asoka Peiris, is expected to hand over the report with recommendations on the re-demarcation of the boundaries of some electoral wards on December 27.
Along with the announcement of the wards, the number of members to be elected to each local authority should be gazetted by the Ministry Secretary. Mr. Deshapriya said the Secretary was required to gazette the number of slots reserved for women candidates to be elected.
The local authorities are categorised as Municipal Councils, Urban Councils and Pradeshiya Sabhas. Each local authority will consist of electoral wards created under a new parliamentary law. The next election will be conducted under a mix of the Proportional Representation System and the First Past the Post System.(Kelum Bandara)