---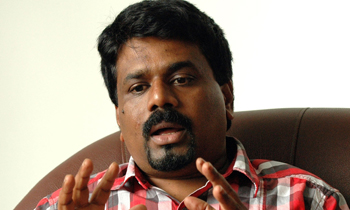 Janatha Vimukthi Peramuna leader Anura Kumara Dissanayake said today they were ready to join any political force or group to win the elections if the Government conspired to postpone the elections.
He told Parliament that the JVP as a party would take every possible legal action to expedite the elections.
He said certain things could not be achieved through the Judiciary and stressed that they would take to the street to get the elections soon.
"We will join any force or movement despite our political differences in the struggle to win the elections. We will invite the Joint Opposition members and civil society groups to join us in the struggle," he said.
He said the case filed in court to postpone the election was not done with good objectives but it was the use of court to fulfil petty political objectives.
"We condemn the use of court for petty political objectives. This is a clear attempt made by the Government to postpone the election. The President was elected on January 8 to ensure democracy. It is not enough to talk about Good Governance and democracy on the stage but they should be put in practice," he said.
He said they urged the President of the Appeal Court to take up this case before December 4.
Mr. Dissanayake also pointed out that Provincial Councils Minister Faiszer Mustapha was aware of the mistake in the Gazette and charged that Minister Mustapha purposefully neglected it.
"Minister Mustapha should resign from his portfolio. He has gone abroad when a case was taken up in court against him. He should have been in court. This is a planned conspiracy," he said. (Ajith Siriwardana)