---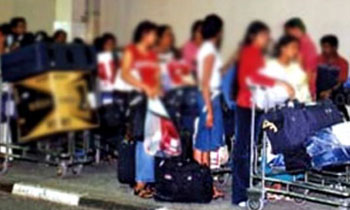 The Sri Lanka Bureau of Foreign Employment (SLBFE) yesterday said the Kuwait government had extended the general amnesty period for illegal expatriates in Kuwait until April 22.
The SLBFE in a statement said earlier that Kuwait had declared a general amnesty period from January 29 to February 22 for expatriates who did not possess residency permits and for those with expired residency permits, to rectify their status or leave the country.
"The amnesty will permit illegal residents to leave the country during the amnesty period without paying penalties. Those who leave the country during this amnesty will be allowed to enter Kuwait again in a lawful manner," it said.
It said however, residency violators who were banned from travelling out of Kuwait or subjected to court cases were not eligible for this amnesty and they should visit the Residency Affairs Department to sort out their issues.
It also said if an illegal resident was caught during the amnesty period, such a person would be arrested and deported.
"There are 15,447 Sri Lankans living illegally in Kuwait. Among them, as of now, more than 4000 Sri Lankans have registered with the embassy over there to leave the country," the SLBFE said in its statement. (Kalathma Jayawardhane)