---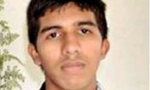 Police rescued the son of a Wariyapola businessman who was kidnapped and held at ransom and also arrested the two suspects who held him.
Police said the 20 year old was rescued by the Nikeweratuya Police. The suspects are to be produced to court.
The suspects who kidnapped the boy on Thursday night had made several phone calls to his father and brother, threatening to kill him if a ransom of Rs. 20 million was not paid.