---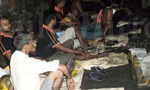 Some 75 workers at the Kahatagaha Graphite Mine in Dodangaslanda today launched a hunger strike 1,132 feet underground, against an alleged move by the government to privatize the Kahatagaha Graphite Lanka limited.
The workers said plans are underway to privatize the mine, the Lanka Mineral Sands Limited and the Paranthan Chemicals in guise of restructuring the three institutions.
They said the graphite mine was making profits unlike the other two institutions and therefore, there was no need to privatize it.
Miners claimed that about 45 percent of the Graphite Mine shares had already been acquired by an Australian mining company. (Pushpakumara Jayaratne)