---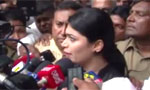 In the immediate aftermath of the High Court convicting her father's murder accused to death, MP Hirunika Premachandra, broke down in Courts and said justice prevailed finally and thanked the government of good governance.
Speaking to the media outside the High Court premises, she said it was President Maithripala Sirisena who created the environment for judicial independence and as a result justice had been served to the aggrieved party.
"Justice has finally been served. Not a single night went without me and my mother crying and a day without the memories of our father. We still feel his presence in our home,"she, flanked by her mother, said .
While welcoming the court order, she said she was not elated over the fact that five suspects were sentenced to death. "We are not inhumane to be happy about when someone else is in pain," she said.
Meanwhile, she said that she hoped justice would be served in the cases of Lasantha Wickramatunge, Prageeth Eknaligoda and Wasim Thajudeen too. "Members of these families too can heave a sigh of relief when justice is served," she said. (Shehan Chamika Silva)
Video by Court Prasanna