---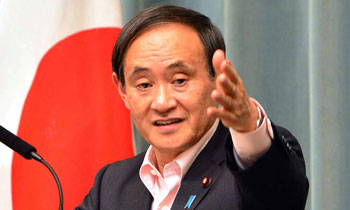 Japan is to appoint a special representative to coordinate development activities in Sri Lanka, an official from the Japanese government has informed Prime Minister on Tuesday.
Japanese Cabinet Secretary Yoshihide Suga told Prime Minister Wickremesinghe in Tokyo on Tuesday evening that Japan will appoint Advisor to Japanese Prime Minister Dr Hirato Izumi as the special representative.
The discussion between the premier and Mr Suga was centred on the maritime routes in the Indian Ocean and the security in the Indian Ocean region.
The Prime Minister had informed Mr Suga that Sri Lanka is committed to ensure maritime security in the region. He had said that Sri Lanka is planning to host an Indian Ocean Summit. he had has suggested a common programme to ensure security in the Indian Ocean.
The parties have also focused on digitalization of television in Sri Lanka as well.
Minister of Special Projects Dr. Sarath Amunugama, Minister of Development Strategies and International Trade Malik Samarawickram, MP Ashu Marasinghe and Secretary to Prime Minister Saman Ekanayake participated in the discussion.