---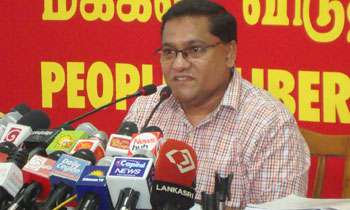 The Janatha Vimukthi Peramuna (JVP) said they would not align with any political party at the upcoming elections, its MP and Propaganda Secretary Vijitha Herath said today.
He told a news conference that the JVP would contest the upcoming elections with a unique policy and manifesto under the 'bell' Symbol.
He said President Maithripala Sirisena was bidding time without resolving the current political crisis which had plunged down the country into political and economic crisis.
Commenting on the President's claim that he joined former President Mahinda Rajapaksa to form a new Government as he was opposed to fraud and corruption, MP Herath said it was an utter lie.
"The President failed to take action against fraudsters of the then and the present Government and ultimately he joined the group, which was charged with massive frauds and corruption by the commissions appointed by himself," he said.
"The President has claimed that he will appoint a commission to probe fraud and corruption of Ranil Wickremesinghe's government. It is a good move to probe fraud and corruption of the government led by him. We urge him to punish the culprits without confining only to reports. He failed to take action against those found guilty by the Commission to probe the Central Bank Bond scam and the PRECIFAC report," he said. (Ajith Siriwardana)
Video by Buddhi