---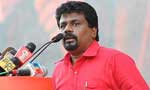 The Janatha Vimukthi Peramuna (JVP) will soon build a new political camp to defeat the present government which had pushed the country into a huge debt trap of Rs 5,000 billion and put a huge tax burden on the people, its leader Anura Kumara Dissanayake said yesterday.
"There will be only two political camps. One is Ranil - Maithiri Camp and the other will be one which is led by the JVP. There won't be a third camp," Mr Dissanayake said told a protest march organized by his party against the increase of taxes.
"The Ranil-Maithri government is not firm. Maithri tries underhand tricks to dislodge Ranil and Ranil tries underhand tricks to dislodge Maithri . People only voted for this government just to defeat the Rajapaksa regime therefore this government does not have any other mandate. the JVP will begin a progressive struggle to send them home. We managed to win a Rs 10,000 salary increment to public servants through a struggle. Likewise we can win this struggle as well. We will fight for a social economy which ensures justice to people," he added.
He said the two main political parties were responsible for the huge debt trap of Rs.5, 000 billion. "This is a country which did not owe a single cent in 1950. Today it owes Rs 5000 billion to the world. Those who ruled this country then and now have brought the economy to a standstill. ," he said.
"There are no funds to run the government. If Sri Lanka is unable to secure a loan this year there won't be enough funds to pay the monthly salary of the Prime Minister, to pump fuel to President Sirisena's helicopter, to pump fuel to the Prime Minister's vehicle, to pay the electricity Bills at Temple Trees and President's House. Now the government is trying to put a tax burden on the people and trying to borrow more," Mr Dissanayake said.
"If you spend Rs 400 to get a urine test done you will have to pay Rs 150 to the government in the form of tax. The price of a three-wheeler had gone up to Rs 1 million from Rs 550,000 as a result of the new taxes "he said.
JVP General Secretary Tilvin Silva said the government should acquire all assets owned by the former rulers - the Rajapaksas - to pay back the loans obtained by them. (Yohan Perera)