---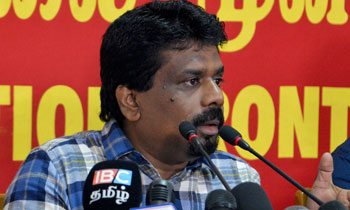 Janatha Vimukthi Peramuna (JVP) leader Anura Kumara Dissanayake said today let anyone bring in a resolution to dissolve parliament, then they would decide what to do.
In response to a question what stance the JVP would take if a resolution was brought in to dissolve Parliament, he said "Let them bring it in first. We do not need to get excited on this. We are sure they will not bring in such a resolution," he said.
He told a news conference that according to the 19th Amendment, President had no power to dissolve parliament until February, 2020 and added that it could be done only through a resolution with a two-thirds majority.
"Former President Mahinda Rajapaksa and MP Chamal Rajapaksa had asked to dissolve parliament and announce a general election. Whom are they requesting to do so? It is the parliament that had the power to dissolve it. Both of them are in parliament. They can bring it if they want to do so," he said.
He said they could not accept the claims that parliament should be dissolved following the Local Government election results and added that it should be done only when the country was in a politically unstable situation.
"It is not practical to dissolve parliament based on the results of an election. Then after every election, they would ask to dissolve parliament," he said. (Ajith Siriwardana)