---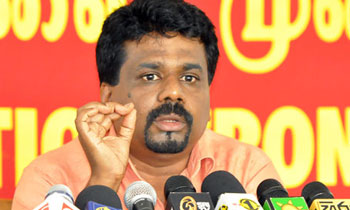 Janatha Vimukthi Peramuna (JVP) leader Anura Kumara Dissanayake said today the party would support a no-faith motion against Prime Minister Ranil Wickremesinghe on the basis that he had not carried out his duties properly and with allegations of fraud and corruption and on allegations of protecting thieves.
However, he also said protecting Mr. Wickremesinghe's Premiership or helping to continue it was not a matter of the JVP.
He told a news conference that they would consider the political motives of bringing in the no-faith-motion and whether it was brought in as a result of a power struggle or as a political game.
"We will support a no-confidence-motion brought in for certain facts such as Mr Wickremesinghe involved in fraud and corruption and protecting fraudsters.
"We will consider whether the motion was brought in against attempting to appoint Central Bank Governor, being part of the Central Bank Bond issuance, attempting to protect fraud and corruption of the Rajapaksa regime, not allowing Shiranthi Rajapaksa being brought to the CID for defrauding money of the Siriliya Account and protecting certain people, who involved in passport frauds," he said. (Ajith Siriwardana)