---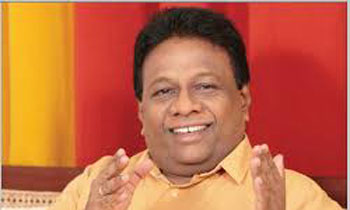 Joint opposition chief organizer and SLFP MO Dulles Alahapperuma said yesterday they would canvass for signatures from government and opposition MPs after the JO group meeting in Parliament at 10.00 a.m. today
"We will do our best to hand over the no-confidence motion against the Prime Minister this week. We may have to surmount various kinds of obstacles or various twists and turns in case it is passed in Parliament but we will go ahead no matter what until that happens,"Mr. Alahapperuma said.
Meanwhile, State Minister Vasantha Senanayake said the discussions to remove Prime Minister Ranil Wickremesinghe from the UNP leadership was ongoing and in case continues to remain as party leader, a large number of backbenchers would support the no-confidence motion, which is to be moved in Parliament by the JO against Mr. Wickremesinghe.
"I expect Mr. Wickremesinghe is matured enough to take stock of the situation and his predicament and take a prudent decision," he told Daily Mirror.
The state minister said their intention was not to move a no-confidence motion against the Prime Minister but to replace him with and more suitable UNPer as the party leader.
"However, he expressed confidence that the ongoing discussions within the UNP would be successful and Mr. Wickremesinghe would resign from the leadership willingly and on his own," he said.
Chief Opposition Whip and JVP leader Anura Kumara Dissanayake said as far as he was aware the no-confidence motion against Prime Minister Ranil Wickremesinghe was being moved based on the Central Bank bond scam and the failure to take legal action against those who were allegedly involved in various financial crimes, killings and other serious offences.
"It is quite clear that the Premier has neglected his responsibilities and pledges given to the people. Therefore, the JVP will take an appropriate decision on the no-confidence motion and it will be for the betterment of the country," he said.
UPFA General Secretary and Minister Mahinda Amaraweera said the Central Committee of the SLFP would take a decision on the no-confidence motion if and when it was moved in Parliament.
"We are not interested in the leadership dispute of the UNP as it is an internal matter. We also don't take decisions on comments made by various people about the premiership. The SLFP decision will be based on the merits of the move and how the removal of the Prime Minister will affect the country," the minister said.
He said the government was currently focused on apprehend and brought before the law all those who have been involved in various financial crimes under the previous regime and 'Yahapalana Government.
He added that one of the prime suspects of the Central Bank bond scam, former Central Bank Governor Arjuna Mahendran would be traced to where ever he was hiding and brought back to Sri Lanka to face the charges against him.
"He cannot find a place to hide on the earth. Before long, our judiciary would move the Interpol to trace him and send him to Sri Lanka," Minister Amaraweera said. (Sandun A Jayasekera)