---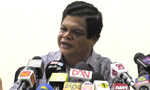 The joint opposition has decided to launch a protest from June 24 to 30 against the reappointment of Arjuna Mahendran to the post of Central Bank Governor after his term ends on June 30.
Joint opposition member Bandula Gunawardena said they had written to President Maithripala Sirisena by requesting him not to reappoint Mr. Mahendran.
"The country's economy is facing a crisis. Prices of essential commodities such as sugar, salt and dhal have risen. The foreign debt has increased and if the President reappoints the current Governor of Central Bank, the country's economy would be destroyed," he added.
Mr. Gunawardena said the country's trust has been devalued because of the Treasury Bond Scam. (Kalathma Jayawardhane)
Video by Sanjeewa