---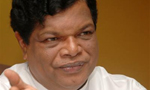 The joint opposition today launched an Economic Research Unit to probe the current economic crisis in the country.
MP Bandula Gunawardana said the Economic Research Unit comprised several members of the JO including Prof. G.L. Peiris, former Central Bank economists and university academics.
He said the government had increased the Value Added Tax (VAT) up to 15 per cent in an unjust manner.
"The VAT increase of 15 per cent should be reduced to 12 per cent, the health sector should be exempt from VAT and the tax on Rs.33,000 day earned by business entrepreneurs should be increased to Rs.100,000," he said.
He also said the tax implementation on water facility with the increment of Nation Building Tax (NBT) should be abolished. (Kalathma Jayawardhane)